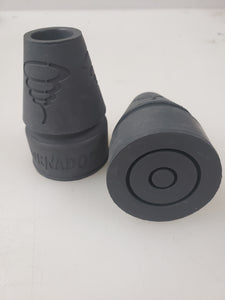 Tornado Tips 'Solid Body' Crutch Tips are made with high grade rubber for superior flexibility, better ground contact and extremely longer wear.

These crutch tips are designed for less-active crutch users who want a tip with great traction and durability at a competitive price. They are made using number one grade natural latex rubber formulated with micronized silica for extreme toughness and wear.
Because there is no Absorbalite ™ gel inside, the 'Solid Body' will not protect your shoulders like its famous brother the Tornado Tips GT. The 'Solid Body' has a pivoting action that enables more of the bottom of the tip to engage the ground even at steeper crutch angles.
Specifications:
Durability: 2 to 3 times more than regular crutch tips
Bottom Base diameter: 2 inches (5.1 cm)
Height: 3-1/8 inches (8cm)
Weight: 4.4 oz. (125g) each
Insert Diameter Fits: 3/4" to 1" (19 - 25mm).
Colour: Black
SKU# FET-942SB
Sold in pairs. 

           * Fits onto the Ossenberg Adult Forearm Crutches. 
  
Note: If unsure of fitting in your existing tubes, please call 1-604-454-1177 for recommendation. For smaller diameter tubes, vinyl tubing inserts and instructions on their use are available.